Important facts:
BTC hasn't seen such a large monthly decline in six months, as it fell 16.23% in value.

Historically, there was no clear uptrend or downtrend in June.
Bitcoin (BTC) ended May with a transaction price of around $27,000, down from $29,000 earlier in the month. As such, it ended the period down 6.98% on a monthly basis.
That was Bitcoin's first monthly decline So far this year. In January, February, March, and April, the cryptocurrency saw gains of 39.63%, 0.03%, 22.96%, and 2.81%, respectively.
Bitcoin hasn't seen a monthly decline like this since last November, when it plummeted to bear market lows. At that time, the cryptocurrency lost 16.23%.
The decline in May was due to lower investor demand, after a strong wave of buying earlier in the year, as reported by CriptoNoticias. Such a situation caused the price of the cryptocurrency to trade sideways for most of the month, hovering around $27,000 as shown in the TradingView Explorer chart below.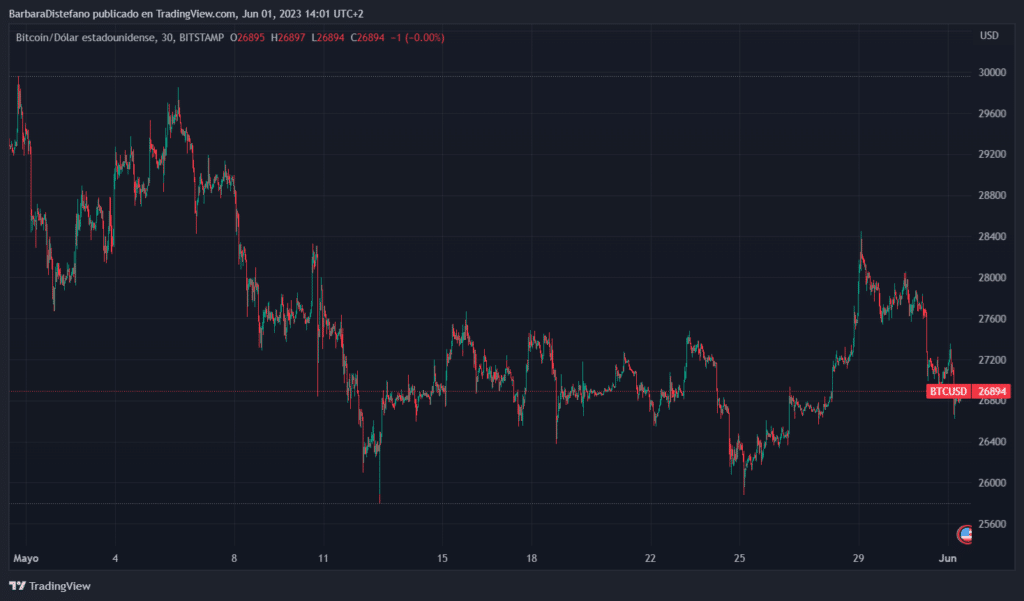 With this behavior, Bitcoin ultimately lived up to the popular saying of traditional markets that encourages selling in May. This is despite the fact that this adage has not historically applied to Bitcoin. Stock investors are usually spoken of based on the gains they have typically made over the past few months.
Historically, Bitcoin has not had a clear uptrend or downtrend in either May or June.. And there is currently no strong demand to push up the price of the cryptocurrency. For this reason, some analyzes argue that the market needs a nudge to move higher and not drop to a new low.